If you would like our advice on quantity and depth for safety or colour aesthetics please email us – info@ecochippings.co.uk
Key Features and Benefits
Eco-Play safety surface coverings are at the heart of play area equipment and products, giving a safe playing surface even on a concrete base. Made from recycled rubber, rubber play bark chippings for play areas absorb impact.
Unlike other rubber mulches that use water-based coatings, EcoChippings are encapsulated in a tough, non-toxic, coloured polyurethane coating that won't wash off or stain clothes or skin.

Our chip is laboratory tested to the latest standards, independently certified and ideal for purpose. Although every effort is made to ensure good repeatable consistency of delivered product, we are unable to always guarantee exactness of colour and shade.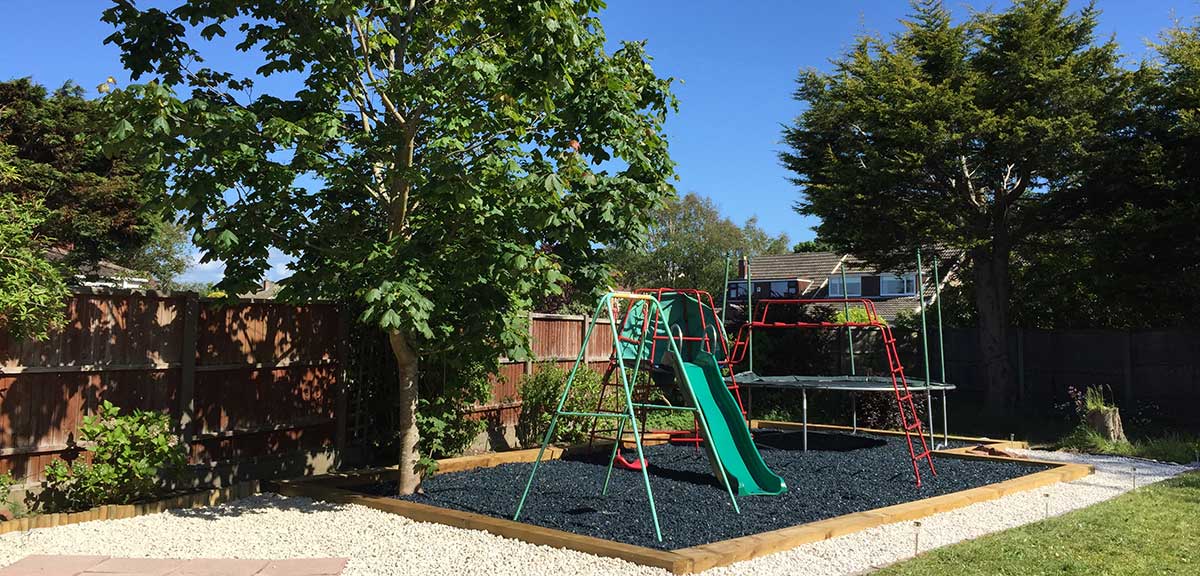 Order Your Eco Play
For top quality rubber chippings delivered direct to you at a competitive price, we will meet your requirements to help ensure your project is safe and has a great look. Check our or chippings before regretting purchasing inferior products produced from car tyres
Down at Farmer Copley's Corn Maze, you will now find Eco Rubber Chippings Tyre Mountain amongst all the other farm attractions.
Tyre Mountain is made from super-sized construction tyres, piled high in a pyramid shape and filled with sand to make them stable. The tyres have then been topped and surrounded with Eco Rubber Chippings innovative child friendly Eco-Play in all seven colours, so children can play and run around the tyre mountain safely without getting sandy or damp.
Farmer Copley's Corn Maize and Fun Park is a massive 10 acres in size with the largest tractor and pigs in Great Britain, why not go and take a look?
The rubber chippings arrived today and we are very pleased with them, the only issue is that we haven't ordered enough! Maths was never our strong point! We wonder if it would be possible to order another 250kg bag of the same blue chippings we purchased off eBay. Perhaps you could let me know so I can arrange payment? I'm very happy to write a review and for you to use photos.
Thanks for a great product and service.
Prices indicated remain subject to delivery costs as applicable and VAT at 20%
*Delivery is UK Mainland Only – Supplements may apply for delivery to Scottish Highlands and UK Islands
If in doubt please email us – info@ecochippings.co.uk
Call Us directly to discuss if you are considering a large orders, we can quote you specifically. All volumes can be catered for.
 
Vibrant colours
 

Will not rot or blow away
 

High impact absorbency
 

Dries quickly after rain
 Cost effective
 
Long lasting, fade-resistant colour
 

C

leaner than traditiona

l tree bark
 

Doesn't deteriorate
 

Doesn't splinter
 

Doesn't decompose